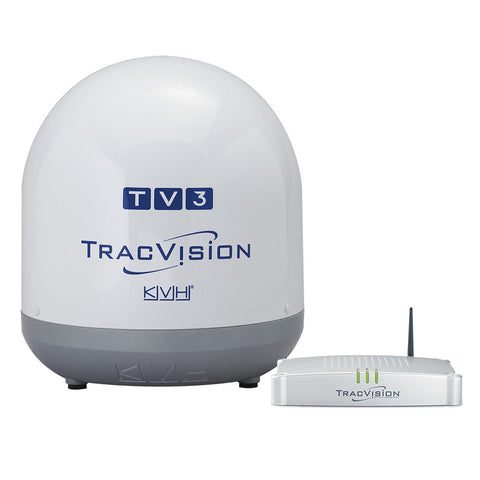 KVH TracVision TV3 w/IP-Enabled TV-Hub Linear Universal Single-Output LNB
TracVision TV3 w/IP-Enabled TV-Hub & Linear Universal Single-Output LNB
**LNB Kit Pack 72-0825 required for SKY Mexico service**

It's Easy! Install or Retrofit Today for Great TV Entertainment
With its single-cable design, compact 37cm (14.5") antenna, and device-friendly user interface, the TracVision TV3 is a snap to install, set up, and use. The DVB-S2 compatible TracVision TV3 is the perfect solution for single- or multiple-receiver installations. In no time, you'll be enjoying your favorite television programming, right from your boat.
Small Marine Satellite TV System that's Big on Built-in Features
A great choice for powerboats or sailboats frequenting cruising areas located within 100 nautical miles offshore, the TracVision TV3 supports DIRECTV®, DISH Network®, Bell TV, and circular and linear Ku-band regional services worldwide. The IP-enabled TracVision TV-Hub includes built-in Ethernet and Wi-Fi for easy interface with smartphones, tablets, smart TVs, and computers, giving you system information at your fingertips.
Highlights
45cm (18") diameter antenna features proprietary RingFire™ technology for stronger signals, wider geographic coverage, and better reception
Supports DIRECTV U.S., DIRECTV Latin America, DISH Network, Bell TV, and circular and linear Ku-band services worldwide
Supports multiple receiver installations
Low elevation angle for better tracking in northern latitudes
Linear Universal Quad LNB configuration offers optional built-in GPS and autoskew
Tri-Americas LNB option for seamless TV throughout the Americas
Sleek IP-enabled TracVision TV-Hub delivers easy setup and operation, and easy user interface for system information from any smartphone, tablet, smart TV, or computer
HDTV compatible (Ku-band services only)
Integrated Single Wire Multiswitch (SWM-8) built into belowdecks TV-Hub supports up to 8 DIRECTV receivers
Single coaxial cable for power, data, and video enables easy installations and retrofits
DVB-S2 compatible
Advanced inertial-based stabilized search for fast satellite acquisition
High performance tracking with advanced algorithms for crystal-clear television picture in heavy seas
Built-in worldwide satellite library
IP AutoSwitch option for multiple receiver installations - for simple auto-switching on Dish Pro and DiSEqC-compatible services
World-class warranty coverage and support
TracVision TV-Hub
The innovative TracVision TV-Hub integrates the advanced functionality of the TV-series system into one streamlined unit:
IP-enabled antenna control unit with Ethernet connection and built-in Wi-Fi interface allows access to system information from any Wi-Fi device
Automatic satellite switching makes it easy to access all programming and local channels wherever you travel, and with whatever service you use
Built-in SWM-compatible technology supports DIRECTV programming
Built-in DISH Pro output supports DISH Network and Bell TV service
Built-in DiSEqC protocol supports linear TV services around the world
Two output ports provide the flexibility to use legacy receivers and expand SWM capability
Status indicators quickly convey information about antenna function and power
10-30 VDC input provides power to the TV-Hub, which in turn provides power to the antenna
NMEA 0183/2000 input for heading and GPS enable fastest satellite acquisition
RingFire Technology 
KVH's proprietary RingFire technology is a remarkable breakthrough in antenna design, fusing precisely shaped, tuned parabolic dish antennas with custom-designed, dual-mode feed tubes and uniquely modified LNBs. RingFire technology provides unmatched illumination of the reflector resulting in signal strengths comparable to competitors' larger antennas. This means that with TracVision, you'll enjoy wider geographic coverage and better reception than with competing antennas, even in extreme weather.
Specifications:
Dome Weight (lbs): 18 lbs
Service Coverage: SKY MEXICO
Voltage - Input Range (Volts): 10-30v
Antenna Dish Diameter: 15"
Quick Guide (pdf)
Owner's Manual (pdf)
Brochure (pdf)