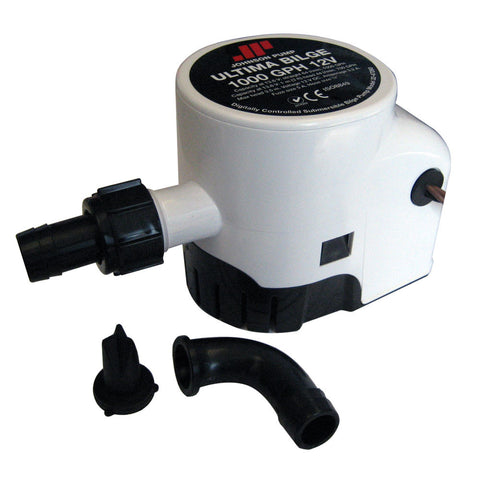 Johnson Pump Ultima Bilge 1000 GPH 3/4" Hose Dura Port
Ultima Bilge Pump
UltimaBilge Pumps are the latest addition to the Johnson Pump brand lineup. Integration of the Ultima "field effect" sensing technology into the bilge pump body creates a sleek, reliable and compact unit with integrated switch ready to install and run for years and years of unerring service. Available in 600-800-1000-1250 GPH versions. Voltage 12 V DC. For UltimaBilge 600 GPH-1000 GPH, we have easy-to-install Dura-Port discharge ports to eliminate stress cracking caused by over-tightened hose clamps. These pumps will be delivered including both a straight and a 90 degree smooth elbow Dura-Port.

All version are delivered with a removable check valve.

The Ultima Bilge pumps may be manually operated via the Johnson Pump bilge
control panel.
CE-Approved

Features:

Compact, all-in-one unit

Integrated Ultima Switch sensing right into the pump body

No Mercury

Removable clip on basket design

Removable impeller cover allows for easy clean out

3-wire device can be run in auto or manual override mode

No tools needed for maintenance

Extremely energy efficient

Water-cooled motor for long service intervals

Pump Body: ABS

Shaft Seal: Lip Seal

Shaft: Stainless steel (SS2343)

Voltage: 12 V DC

Capacity 3 ft (0.9 m) head (13.6 V): 44 l/min - 700 GPH

Capacity straight (13.6 V): 64 l/min - 1000 GPH

Amperage: 3.2 A

Fuse Size: 5 A

Connection: 3/4"

Length:142 mm - 6"

Width:82 mm - 3.2"

Height:105 mm - 4.1"

Weight:0.66 kg - 23.3 oz.
Specifications:
Gallons Per Hour: 1000 GPH
Operation: Automatic
Outlet Size: 3/4"
Volts: 12v
Type: Electric
Box Dimensions: 4"H x 8"W x 9"L WT: 1.4 lbs
UPC: 729321472609
Owner's Manual (pdf)