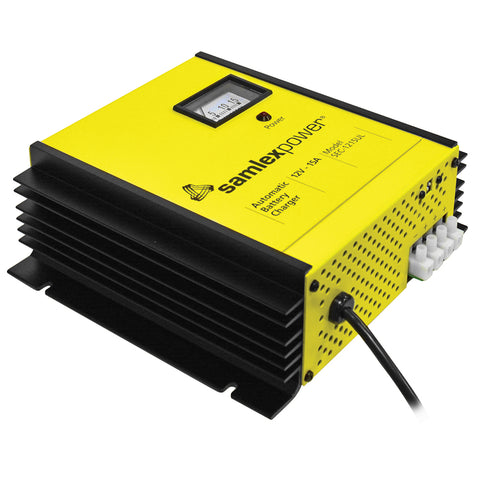 Samlex 15A Battery Charger - 12V - 3-Bank - 3-Stage w/Dip Switch Lugs
15A Battery Charger - 12V - 3-Bank - 3-Stage w/Dip Switch & Lugs
This advanced fully automatic three-stage 15 Amp battery charger is ideal for charging all types of 12 Volt lead-acid batteries ( Flooded / Absorbed Glass Mat (AGM) / Gel Cell) from a 120 V, 60 Hz or 230 V, 50 Hz AC source. By means of a DIP switch setting, conversion to a two-stage algorithm is possible to charge batteries connected to a DC load (DC UPS). The unit can also be used as a DC Power Supply. Features include overload and short-circuit protection. The unit allows charging of up-to 3 separate battery banks.
Features:
High efficiency
Commercial Grade
Lightweight
Quiet operation
Industry Proven Design – 1000s of units in operation
2 or 3 stage charging (user selectable)
120 or 230 VAC, 50/60 Hz (user selectable)
Voltage meter display – Ammeter and LED power status
For all types of Lead Acid batteries
Charge with a battery load or stand alone
Use as a power supply or DC UPS
UPC: Universal Protection Circuit – short circuit, overload, reverse battery polarity
Charge 3 banks of batteries at once – no isolator necessary
Specifications:
Input: 120 VAC 60 Hz or 230 VAC 50 Hz
Output: 12 VDC
Amps: 15 Amps
Weight: 4.4 (lbs)
Weight: 1.96 (kg)
Dimensions: 8.5 x 8.5 x 3 (in)
Dimensions: 21.6 x 21.6 x 7.6 (cm)
Safety: Listed to UL Standard UL-1564, EMI Compliant to FCC Part 15(B), Class B
Warranty: 2 Year Limited
Applications:
Automotive
Recreational vehicles
Marine
Communications sites
Battery back-up systems

WARNING: This product can expose you to chemicals which are known to the State of California to cause cancer, birth defects or other reproductive harm. For more information go to P65Warnings.ca.gov.
Specifications:
Charger Output Voltage: 12v
Charger Output - Amps: 15a
Charging Banks: 3
Portable: No
Charger Input - Voltage: 120/240v
Box Dimensions: 5"H x 10"W x 12"L WT: 5.5 lbs
UPC: 622988083013
Owner's Manual (pdf)
Brochure (pdf)